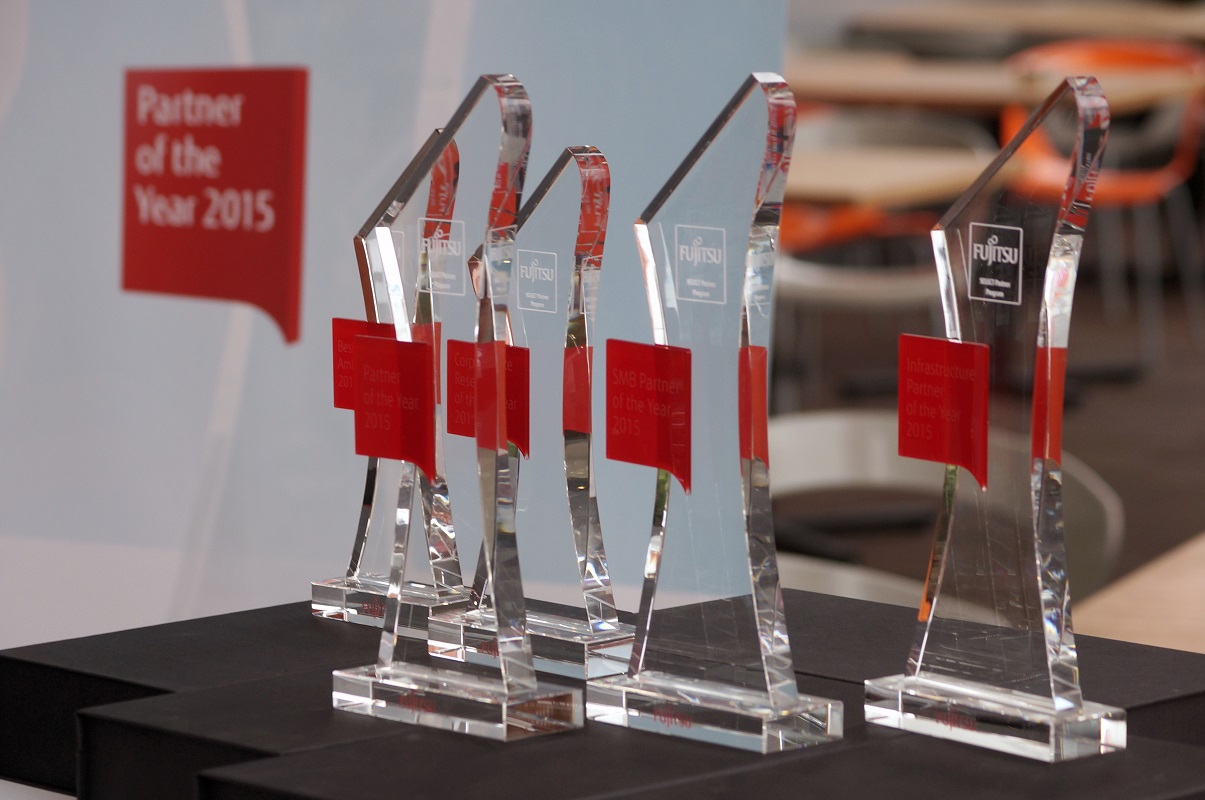 The Bulgarian office of Fujitsu Technology Solutions honoured five of its Selected Partners for the past financial year, which ended on March 31, 2016 at an exquisite ceremony in gourmet restaurant "Pure" in Sofia on 20 July. This year's ceremony was held under the motto "The world is your workplace ", dedicated to the digital evolution and transformation of future Fujitsu technology told in pictures.
For the first time the company included rewards not only to Bulgarian partners, but also companies from all countries in the region that the Bulgarian office is responsible for - Albania, Bulgaria, Kosovo and Macedonia.
Two prizes were awarded to partners from Bulgaria, two others went to partners from Macedonia, and one was awarded partner of Albania.
Once again Kontrax JSC. was honoured for "Partner of the Year." The award was presented by the special guest of the ceremony Mr. Dejan Malic, Sales Director of the Adriatic region and Bulgaria in Fujitsu. The award is given for achieved high results and growth in sales and implementation of innovative Fujitsu solutions in the region.
 For the past financial year Kontrax JSC has implemented a number of projects with products and solutions by the Japanese manufacturer, including:
EMPLOYMENT AGENCY - supply of laptops and desktops
UNIFY SERVICE CENTRE - supply of laptops
AGENCY FOR SUSTAINABLE ENERGY DEVELOPMENT - supply of servers and disk arrays
"QUEEN IOANNA" HOSPITAL - ISUL PLC - delivery of desktops
MINISTRY OF ENERGY - delivery of desktops and laptops
AGENCY "ROAD INFRASTRUCTURE" - supply of servers and disk arrays
COMMISSION FOR ENERGY AND WATER REGULATORY - supply of servers
MUNICIPALITY OF TETEVEN - delivery of desktops, laptops, servers and disk arrays
NATIONAL CENTER FOR TRANSFISION HEMATOLOGY- supply of servers and laptops
ADMINISTRATION OF THE PRESIDENT - supply of servers and document scanners
Sofia Tech Park - supply of high-performance Computing Centre
Sofia Tech Park - supply of servers and workstations for laboratories park
NATIONAL ASSOCIATION OF MUNICIPALITIES IN BULGARIA - supply of servers, workstations and laptops
Ministry of Foreign Affairs - supply of servers and disk arrays
MINISTRY OF JUSTICE - supply of servers and disk arrays
SUPREME JUDICIAL COUNCIL - supply of servers, disk arrays, desktop and laptop computers
ELECTRICITY SYSTEM OPERATOR EAD - supply of servers, desktops and laptops
COMMISSION FOR CONSUMER PROTECTION - supply of disk array
MINISTRY OF REGIONAL DEVELOPMENT - supply of laptops
MINISTRY OF EDUCATION AND SCIENCE - supply of disk arrays, desktop and laptop computers