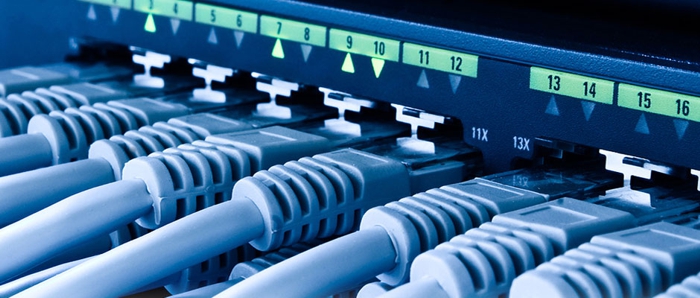 KONTRAX builds cabling infrastructures including the design, construction, delivery and installation of specialized modules and equipment, tested and certified.
KONTRAX is a representative and authorized partner of the leaders in cabling system solutions – Systimax (Commscope) and Brand-Rex.
Systimax SCS is a collective name for a wide range of passive components, combined in several product lines. Since 2005, Systimax has been a part of Commscope.
Systimax (Commscope)
Discoverers and founders of the concept of structured cabling back in the 1980s (Bell Labs)
The largest global manufacturer of components for cabling systems (with over 20% of the global market share every year)
They have traditions and experience in the field of communications of more than 130 years – from the discovery of the telephone by Alexander Bell back in 1876 (Bell Labs) and the twisted pair to modern solutions (2007) such as providing traffic of 10Gbps over copper cable and 100Gbps over fiber optic
20-year warranty on all components, on the system as a whole and on future applications that are expected to work on this system
Brand-Rex

Provides full 25-year warranty on every installed network. The warranty covers both individual components and the network performance as a whole.
Fire alarm
Fire alarm is one of the life-saving systems accompanying our life in modern city. There isn't and must not be any compromise in this system. KONTRAX specialists who design, build and maintain fire alarm systems have long experience in the field and guarantee the high quality of the systems.
There are two main types of fire alarm systems:
Video surveillance
KONTRAX builds IT-based solutions for video surveillance of industrial and private sites, multipurpose buildings, urban environment, open spaces and border areas. A well-built video surveillance system is prevention against abuse, fraud, material or intellectual property thefts, as well as against burglaries.
KONTRAX designs, builds and maintains all types of modern video surveillance systems.
IP cameras; Analog CCTV cameras; HD cameras
Picture quality
Construction, cabling and cable infrastructure
Integration with other security systems such as access control, alarm and security equipment (ASE) and fire alarm
ASE
Alarm and security equipment is invaluable in guarding our home, office or warehouse. KONTRAX has extensive experience in the design, construction and maintenance of ASE systems of any kind. From small home systems to the secutiry of public buildings, hotels and airports. The types of ASE systems are divided according to their constituent modules:
Exchange
Control keyboard
Analog and digital sensors:
Motion infrared sensors – PIR /passive infrared/ microwave sensors
Ultrasonic sensors
Magnetic sensors
Acoustic sensors
Combined sensors
Wireless sensors
Alarm and alert devices
Access control
The access control systems in a modern office building are irreplaceable. They provide the right passenger flow in the building, as well as the security in restricted areas. The functions of a system are:
Control or restriction of the access of people and vehicles on the territory of the secured site
Control of staff movement within the territory of the company
Restriction of access to certain areas
Verifying the identity of employees with smart cards and keys
Automatic identification of visitors (passports, cards, key chains)
Integration with the video surveillance system
Integration with accounting programs and scheduling of working hours
Taking into account the working hours of staff and tracking of labor discipline
Audio system
Sound systems are designed primarily for broadcasting background music. They consist of:
Control panel
Microphones (wired or wireless), connected to the sound mixing panel
Speakers divided into groups that can be controlled separately
TV system
TV systems provide the reception in key points in the building, hotel or office (showroom, cafe, canteen, etc.) of:
All broadcasting TV programs
The showroom's own program from DVD
Several hundred SAT-TV-programs (from satellites ASTRA 19,2 E and HOTBIRD 13E).
They consist of
Satellite dish complete with convertors
Log-periodic antenna
Multiswitch
Modulator for transmission of own advertising program
Integrated security solutions
Access control solutions
Integrated platforms for security management of commercial and enterprise applications
Integrated video solutions
They include network DVR (digital video recorder), cameras and complete CCTV systems
Visitor movement management solutions
Visitor movement management solutions enhancing the professional image of the company.
Perimeter protection
Effective security solutions extending the boundaries of the protected perimeter off site
Buildings security solutions
Consultations
Customer requirements / development of specifications
System engineering and integration – project management
Delivery (direct, indirect or a combination)
Performance of acceptance tests
Maintanance and service
Offering
Security management solutions (ProWatch, DVM, Vindicator, EBI)
Access control and video surveillance
Perimeter security systems
Third-party products
Global sales and project management enabling standardization