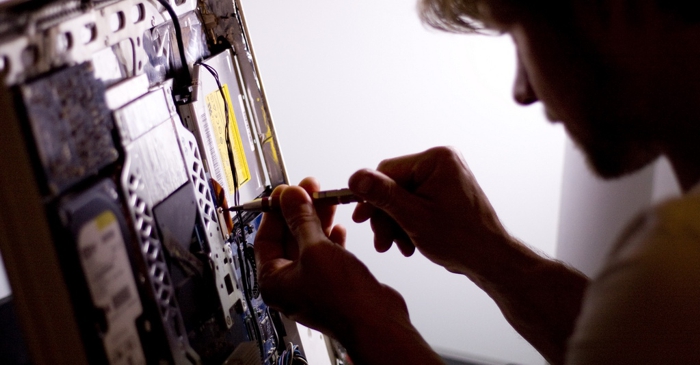 A major success factor for both small companies and large corporations, state and public organizations is to ensure integrity and data security, continuity, stability and performance of services. The overall quality warranty and post-warranty maintenance is the key to successfully solving this task. KONTRAX as a provider with experience, technology resources, human resources, equipment, stocks, but also with implemented processes with which it ensures the quality and timely provisioning of warranty and post warranty maintenance for its customers, is ready to help you in your endeavor to develop successfully and attract new customers.

KONTRAX offers maintenance services for equipment and hardware of all kinds in the field of information technologies, printers and multifunction devices, scanners, plotters, computers (desktops and laptops), monitors, servers and data storage systems, communication equipment, WiFi devices, PBXs and phones. We can also add the maintenance services of various systems based on the technologies of leading manufacturers such as Microsoft, Oracle, VMware, Citrix, Cisco, Juniper, ZTE and others.
Certified specialists
With its certified experts, KONTRAX is able to provide consultancy services in relation to the planning of future hardware deliveries, selection and specification of the most suitable brands and models of equipment. Our certified experts in Microsoft, Citrix, Cisco, DELL, Fujitsu, Avaya and Kyocera can help you with fast and efficient failure detection and troubleshooting. This way you ensure the reduction of the time to resolve incidents and the rapid restoration of the service.
Partnerships with leading companies
All clients of KONTRAX who have received hardware delivery from manufacturers that are partners of the company (Dell, Fujitsu, Cisco, Avaya, Canon, Kyocera, Lexmark) have warranty maintenance level provided in accordance with the standard warranty conditions of the manufacturers. KONTRAX does not stop there – it offers maintenance at the highest level for all other types of devices through partnerships with other service organizations and has the status of a service partner of leading global manufacturers such as HP, Oracle, Sun Microsystems and others.
Guaranteed processes
Implemented quality control system based on the quality management standard ISO 9001 and a service management system based on the standard ISO 20000-1: 2011, as well as the system for delivery and stock availability of all necessary original replacement parts, give KONTRAX the opportunity to be always by your side and to support your business. According to the international standards and the implementation of best practices from ITIL, the company introduces an system for managing incidents, problems and configurations and for traceability of any problems, which is integrated into the systems and tools for detection and monitoring of devices and software for automatic filling of database with configuration units, and always provides the best performance, efficiency and productivity to clients.
Developed service network
The company has 28 service centers and is able to provide extremely short response and repair times throughout the country. There are coordinators, specialists, automobiles, spare parts and circulating working devices in all service centers. All service centers operate in accordance with the processes and requirements of the quality assurance, service management and security standards.
The supervision and management of the work is carried out by the main service center based in Sofia.
The deadlines for troubleshooting guaranteed by KONTRAX can reach the uncompromising 2 hours for the elimination of a problem, which places KONTRAX as one of the leading service provider on the Bulgarian market.
Please read the list of our service centers.
Proactive maintenance
The company also provides proactive maintenance through a specialized system for the provision of a high level of warranty service provided only by KONTRAX. With additional services such as prevention and maintenance alongside systems for proactive monitoring of hardware, the company receives early warnings of incidents which reduc response times and speeds up the resolution process.
The integration of the KONTRAX main service center into the for monitoring systems and the systems for information infrastructure and supplies management make it possible to take action to prevent any interruptions. In combination with the excellent process it helps to eliminate faults before you even know they exist.
Green phone
The work of KONTRAX on warranty and post-warranty maintenance contracts reduces downtime caused by breakdowns and thus increases the benefits to the customer. The accountability provided by KONTRAX adds value by providing analytical information regarding the types of repairs, damage trends, etc. In addition, the experts of KONTRAX provide the clients with consultancy services on preventive measures aimed at reducing the level of failures. All these good practices help the clients customers of KONTRAX to organize, plan and implement supply and maintenance of hardware activities in a cost effective manner. Another benefit is that the warranty and post-warranty maintenance, together with others already listed elements of the complex service, is performed by one service organization that has service bases centers throughout the country, qualified professionals, technological tools, stock of spare parts and a service management system.