High stability of an IT infrastructure depends on complex services which the KONTRAX team is ready to provide, namely research, analysis, design, planning and implementation of improvements, technical assistance and advices.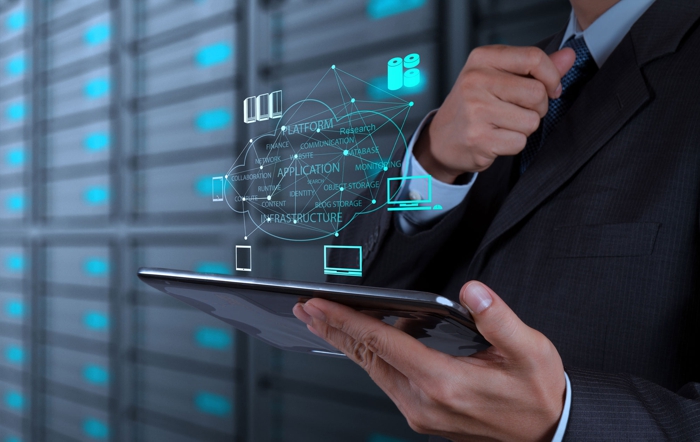 For more efficient management of the ICT infrastructure, KONTRAX also provides a package of additional services, including service maintenance, system administration of the entire server and network infrastructure, warranty and post-warranty maintenance, consulting, hardware and software license delivery and system integration.
ICT Infrastructure Audit, Analysis and Assessment
Managing the implemented systems for management of quality, security and IT services, KONTRAX provides audit and assessment of cusomercustomer's IT infrastructure by applying best practices and following the latest developments of leading companies in the IT industry.

The results:
Increased efficiency of provided IT services
Reduction of IT infrastructure maintenance costs
Improvement of the security of the entire infrastructure
Reduction of the possibility of crashes

KONTRAX applies proven methods such as:
Investigation of existing IT infrastructure and opportunities for optimization
Increased system protection by dividing the levels of access to IT infrastructure
Consolidation via streamlining the IT processes and infrastructure

KONTRAX offers its customers an inspection, audit, analysis and improvement of the ICT infrastructure overall. Along with the delivery of computer hardware and software, as well as communications systems, a research of the customers' needs customer, check and analysis of the current state of network communication systems, design, implementation and expansion of the communication systems.

By the information system audit, the customer receives information on potential problems related to security, data on the level of performance, the level of technological equipment, as well as the overall state of the system. This information is provided in the form of a report – analysis, technical documentation and/or system architecture suggestion redesign. The report concludes with areas for improvement, an action plan, an investment plan, a plan for the use of the latest technologies and services offered on the market. The report also includes recommendations for the use of best practices, processes and general organizational measures by which the information system and its operation can be brought to a higher level of security, usability and efficiency. The analysis provides the management with the ability to make informed decisions regarding the development and investments in the field of information systems.

During the process of preventative maintenance and internal auditing, disruption of work is minimized and maintaining productivity is made possible.
ICT Infrastructure Design
KONTRAX has a professional team of experienced certified professionals and experts in technological solutions of Microsoft, Cisco, Citrix, Avaya, DELL, Fujitsu and many other global manufacturers. KONTRAX keeps within its employees a high level of knowledge and skills necessary for the design, construction and subsequent maintenance of the customer's environment.

Processes in the corporate and public sector require the use of sophisticated and high-tech systems that work together to achieve an integrated information infrastructure. The design of high-tech ICT systems requires qualified experts who have the necessary knowledge and technical know-how and work in compliance with well-organized processes.

In addition, KONTRAX designs, implements and supports solutions for data backup and storage. Along with the services offered by choice, and the delivery and implementation of hardware, the company also has the resources needed to offer a complete service in all areas of information technology.
ICT Infrastructure Construction
With implemented systems for management of quality, security and IT services, KONTRAX is able to ensure a high level of stability of the systems built, both in small and large organizations.

Communication Infrastructure

Today, business processes are largely related to information exchange, data collection and management of complex infrastructure from remote sites. Information systems of businesses and organizations need fast, high-quality and reliable communication environment. Outages, productivity reduction or security breaches can cause significant loss to business and society.

KONTRAX performs for its customers planning and design, oriented to their specific needs and based on the latest trends and technologies in the field. Voice communication systems, structured cabling systems, data communication systems, as well as converged systems for voice and data are just part of our portfolio. With the availability of a team of qualified experts in network architecture, installation of structured cabling systems and telephony, we are able to offer a comprehensive service for complex communication infrastructure design.
Server Infrastructure

Investments in information systems, servers, data storage systems, virtualization and operating systems take up a significant proportion of the funds for management and direct performance of business goals and objectives.

KONTRAX is able to provide a complete ICT management service for all components of the IT infrastructure, including planning, design, implementation and support of:

Directory services and operating systems (Active Directory, MS Windows Server)
Virtualization (Microsoft, VMware, Citrix)
E-mail (MS Exchange and MS Office 365)
Office tools (MS Office, MS Office Pro Plus)
As a Microsoft Gold Partner, KONTRAX maintains a high level of expertise of its system architects through a continuous process of training and application of their skills. This gives us a reason to be confident that we can deal with different system architecture customizations. A proof of what we are capable of is our projects for small, medium and large enterprises in the public and private sector, implemented nationwide.
ICT Infrastructure Maintenance
As part of warranty and post-warranty maintenance, KONTRAX can help you with the resolution of problems in your system and can give instructions for measures to improve the existing infrastructure.

Maintaining systems requires significant resources, including specialists, organization, technology and monitoring and management resources. Renewal of technology platforms requires additional investments that have to be relevant, well-thought-out and in response to current trends.

For existing systems, KONTRAX offers expert assistance in analyzing the current state, maintenance and migration to new versions, platforms and solutions. Software system updating and transition to new hardware platforms provides the customer with a stable IT environment to achieve business goals.

The main advantage our customers receive is an integrated system, delivered and maintained by a single provider who takes full responsibility for its operation. The complete service includes management, maintenance and administration of both the hardware and the system and application software used in the customer's IT infrastructure.

Interventions of service engineers are coordinated with the customer's team and aim troubleshooting by shifting work to backup systems, replacing defective modules or devices, a remote intervention or a visit to the customer's location, escalation of the problem to the third level of support (service engineers of the manufacturer). The company has its own test environment which enables testing of all stages of the life cycle of the system – design, implementation and changes.
ICT Infrastructure Monitoring and Management
KONTRAX provides its customers with highest quality and great variety of technologies and services, professional and efficient service, thus ensuring long-term use of the systems, attracting new and loyal customers and partners for your business.