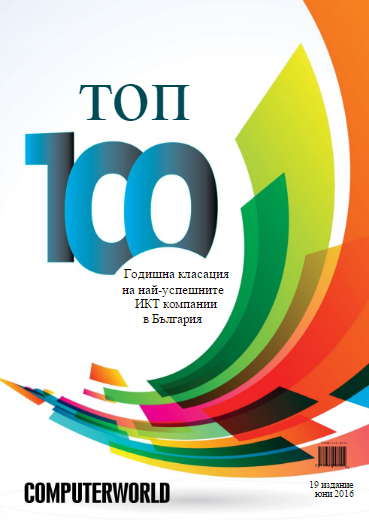 According to the Computerworld ranking for the ТOP 100 of the most successful ICT companies in Bulgaria in 2015 the software development contributed 20 % of the total IT revenue in 2015. Next comes the distribution of software, hardware and communication with 19,2 % share. System integration is the third in volume business for the local IT companies, generating about 18,5 % of the IT gross income for 2015. The outsourcing services, including cloud, create 17,5 % of the IT revenue.

The total accounting profit in the IT sector is 140 million BGN, with the leaders HP Global Delivery Bulgaria Center, Datecs, Fadata, MM Solutions, Borica – Bankservice, CSC Bulgaria, Teletek Electronics, KONTRAX, Solytron Bulgaria and ICB (InterConsult Bulgaria).

The system integrators of software, hardware, communications and services hit a 31,4% annual growth in 2015, as their total gross income in 2015 reached 348 million BGN, compared to 265 million BGN in 2014. The top five in the list is headed by Telelink, followed by Stemo, Lirex BG, KONTRAX, Paraflow Communications, Information Services, Sirma Group Holding, Intelligent Systems Bulgaria, S&T Bulgaria and Vilmat.

KONTRAX is a leader to the software integrators with revenue of 12 190,8 thousands BGN and growth compared to the year ago by 33 % and ranks second to the suppliers of communication equipment with revenue of 2 660,2 thousands BGN.
KONTRAX ranks fourth to
the system integrators in Bulgaria with revenue turnover of 29 710,7 thousands BGN and growth to year ago of 86 %
the hardware system integrators with revenue of 5 841,3 thousands BGN and growth to year ago of 140 %
the hardware suppliers with revenue of 24 578,8 thousands BGN and growth to year ago of 54 %
the suppliers of integrated services with revenue of 10 737,6 thousands BGN and growth to year ago of 182 %
the suppliers of the complete software products with revenue of 1 991,7 thousands BGN
the cabling system solutions installers with revenue of 1 123,2 thousands BGN and growth to year ago of 184 %
the suppliers of office equipment with revenue of 7 051,5 thousands BGN and growth to year ago of 46 %
the suppliers of computer hardware with revenue of 7 323,2 thousands BGN and growth to year ago of 31 %
KONTRAX ranks ninth place in the overall ranking with 52 961,1 thousands BGN for 2015 which is growth of 48,5 % to 2014