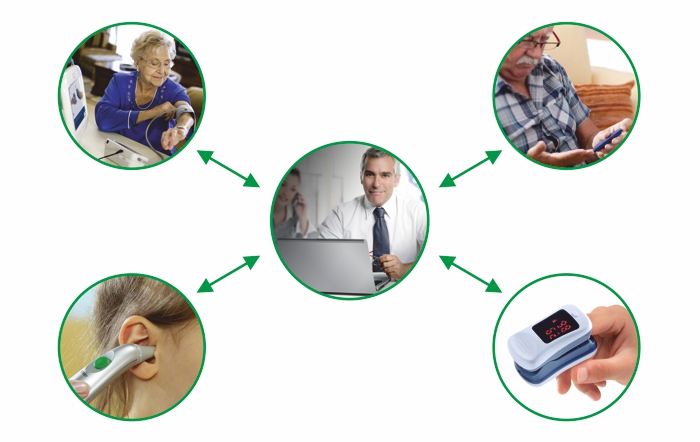 Remote services continue to develop not only to assist the people in risk, who need supervision, but also to ease those providing the care – family members and specialists. The supporting technology allows balancing the load for assisting people and time for relaxing and taking a breath between the stress and high level of responsibility situations.

As the Vice-president of the European Commission, Mrs Cross, said, digital technologies improve the services efficiency, provide free hospital beds for those in greater need, and improve the life of people in the protected environment of their own homes.

In the context of the expected tendency for double increase of number of people of age over 65 years in Europe, for the following decade, use of communication technologies is not only a purpose to help elderly people, but also a way to support all citizens as taxpayers, and aims to support the industry as well.

The expectations for Bulgaria refer to negative growth in population of about – 27%, or approximately 2 million residents less. From the rest of the population in Bulgaria in 2060, 5.53 million residents, the active population will be about 3 millions, living mainly in and close to the four biggest cities – Sofia, Plovdiv, Varna, and Burgas. That number of people shall be expected to provide the means of livelihood for 0.7 million children and students, and 1.8 million people of age 65 and more, 0.7 million of which will be over 80 years of age with high percent of disabilities, chronic diseases and need of social care.

Clearly understanding the need and benefits of implementing a remote health and social services system KONTRAX AD has established at the end of 2016 one of the first systems of that type, in Septemvri Municipality, under the fulfilment of Project  №BG05M9OP001-2.002-0277 "Independent Life in Septemvri Municipality" under the procedure for free financial aid №BG05M9OP001-2.002 "Independent life" carried out with the financial support of the European Union through the European Social Fund.

The "Telecare" term is introduced in the 80th of XX century in order to describe the occurrence of new remote service systems (Telecare – "tele" form Greek language – distance, and "care" from English language – care, support). Initially Telecare includes simple alarm systems that send a signal to a designated person for situation of risk or need for help. In time Telecare became more sophisticated with the addition of new devices that provide support for people of all ages and various needs.

The system, which KONTRAX AD has implemented in Septemvri Municipality, consists of the following components:
Telehealth cloud system

– allows simultaneous, round-the-clock and remote supervision and recording of various vital rates for many patients.
The Telehealth solution consists of two independent systems that work together for fulfilling the project objectives — cloud system and hardware components system.
The Cloud system provides the interfaces necessary for recording and storing the data of vital rates, answers for their reliable storage, and visualizes thee data in appropriate way for the doctors and assistants.

It monitors for deviations from the reference values of indices measured and provides an option for sending messages via SMS and e-mail to assistant or patient's relatives.

The system is available 24 hours, 7 days in a week. Data security and prevention of unauthorized access are guaranteed. System is accessible only through protected channels and protocols. Communication with the hardware components is also carried out through secured connection. System is accessible from different devices – computer, laptop, tablet, smartphone, and operates under various browsers and operating systems. User interfaces allows for system ease of use on devices of various in size screen and has adaptive design for different types of resolutions.
Special devices


a.    Data transfer devices (GATEWAY)
b.    Electronic blood pressure measuring apparatuses with Bluetooth
c.    Finger pulsimeters with Bluetooth
d.    Boxes with alarm for medicines intake
e.    Blood sugar measurement apparatuses with Bluetooth
f.     Thermometers with Bluetooth
g.    Telecare Alarms

System benefits are complex and ensure conditions for improving the health services and guaranteeing the timely medical aid for population in small settlements. Its implementation provides for reduction of transportation costs for municipality residents and cuts down the time necessary for rendering health services for the citizens. From another side, the quality of health service increases and the condition of patients with chronic diseases is regularly supervised.